Every product is carefully selected by our editors. If you buy from a link, we may earn a commission.
13 Great Rings for Men
It doesn't matter which finger or style you favor. You're sure to find one that fits you.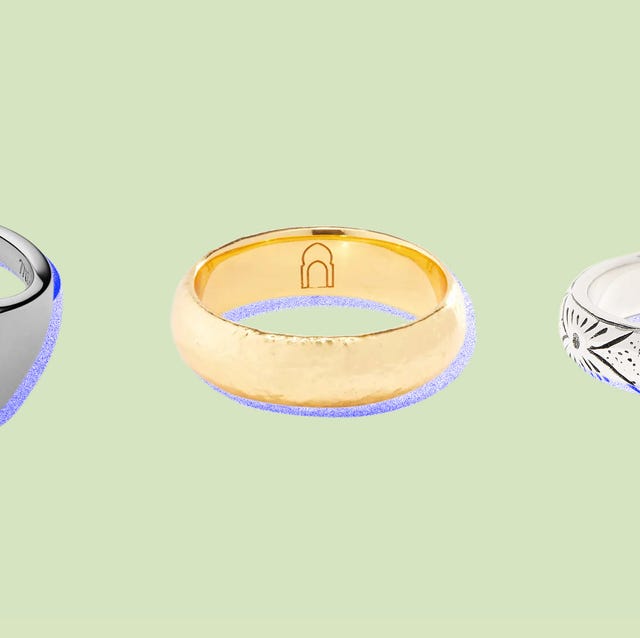 Rings can be traced back to Ancient Egypt, when the circle, more so than silver or gold, held significance. It's why people then exchanged or wore them — to represent eternal life or that they were from the upper echelons of society. Then, the circle meant endlessness, although the first modern instance of rings signaling marital status wasn't until 900 AD in Europe.
Today, rings remain a way to say you're married. But, they're also more than that. They're a pretty popular method of self-expression, and an option that's visible nearly 100-percent of the time, too. It's probably why people so often shy away from them, I think. It's also why, on the contrary, so many love them so much.
Rings blend bravado and beauty, as well as symbolize status or allegiance to a significant other. But word of mouth's made up a number of other things rings can represent, too. There are entire sites dedicated to decoding what a certain type of ring on a particular finger could mean — with the pointer finger meaning affiliation and the pinky meaning personal statement and so on and so forth. Then there are gems and jewels, which warrant entire discussions on their own.
So, unless you prescribe to (or study) ancient ways of wearing rings, or dabble in spiritual realms that manifest as ready-to-wear accessories, stick to my simple advice: Beyond the left ring finger (one to the right from your pinky or the third in line if starting with your pointer), none of them really mean much. (That one means you're married.) Find a ring that you like, make sure it fits you (and your style) and wear it everywhere. Admittedly, putting a ring on for particular occasions or to match select outfits makes the accessory feel more like costuming than a cornerstone of your wardrobe. Be consistent and you'll feel super confident no matter how many you have on (but maybe stick to three or fewer).
Rings for Men
All of Studebaker Metals' accessories are handmade in Pittsburgh by a small team of metalsmithers. Their work is evident on every item, manifesting as marks where tools carved its shape. The brand's Signet Ring is cast and carved from sterling silver, promising a soft polished look and plenty of longevity.
Made from sterling silver and coated with 24ct gold vermeil, Dear Letterman's Ayman Ring looks antique and entirely unique. It's been hammered for a weathered look, but it'll last like it's brand new (because it is).
Miansai's '70s-referencing Lennox Jasper Ring features a horizontal green stone set in a sterling silver ring.
How to Find Your Ring Size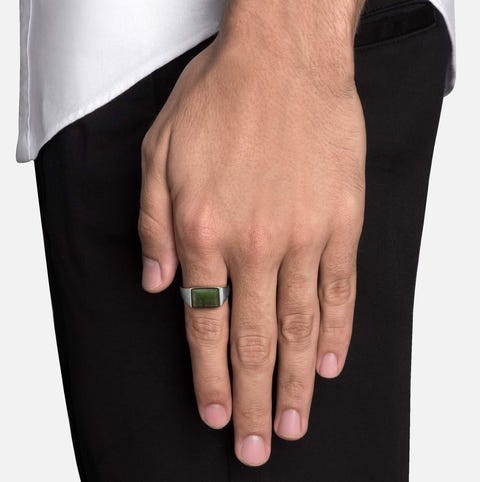 First, find some string or a piece of ribbon. Then grab a marker in a color that'll be visible on your string or ribbon. Be sure that both ends of it have straight edges. Holding one end of it, wrap the other around until it completes the ring. Mark where it does. Take the ribbon off and measure it from the starting line to where you marked. Use this measurement to inform your size. Repeat for whichever finger you plan on wearing your ring on.
Jil Sander's Chevalier Ring is a bit regal, but, honestly, still very subtle. It's also one of those rings that plays nicely with plenty of outfits and other accessories. Made in Italy from sterling silver, the only logo on it is on the inside of the band.
Sandcast Plain Ring R-226
Crafted in Japan at a one-at-a-time pace, First Arrow's Sandcast Ring features decorative adornments around the length of the ring.
Mejuri's super plain, albeit called Bold, signet ring is the right shape and size for any level jewelry wearer. Plus, the 14k gold ring can be finished with a letter of your choice on the front.
Signet rings used to boast family crests or official seals, which could be stamped on documents with some melted wax and one quick hand motion. Nowadays, most are blank, left for personal adornment or as is for a simpler statement. Obbi Good Label dubs its the Good Luck ring, and it comes with the company's own logo etched into the box.
Lone Flag uses turquoise to offset sterling silver, producing in a peace sign in the process. It's a splash of color and a reminder to stay positive — for you and anyone that sees it.
Maple engraved a pattern reminiscent of those on bandana's into this ring, making an otherwise simple silver ring a little rough around the edges.
A part of Knickerbocker and LHN Jewelry's collaborative collection, the Silver Onyx Ring is another horizontal stone set in silver, but this time it's black.
Comprising hand-done carvings in solid sterling silver, the Yates Ring takes inspiration from medieval English designs, the brand states.
Bottega Veneta's chunky gold-toned ring was made in Italy from silver. It's been burnished for a vintage look, but it's entirely brand-new.
The M. Cohen Glib Ring replicates a popular style — horizontal stone in a silver ring — but this time with a darker turquoise (that could totally pass for navy blue in the right light).
This content is created and maintained by a third party, and imported onto this page to help users provide their email addresses. You may be able to find more information about this and similar content at piano.io