Every product is carefully selected by our editors. If you buy from a link, we may earn a commission.
The 10 Best Weed Vapes for a Better High
Getting smoked out doesn't mean you have to spark up.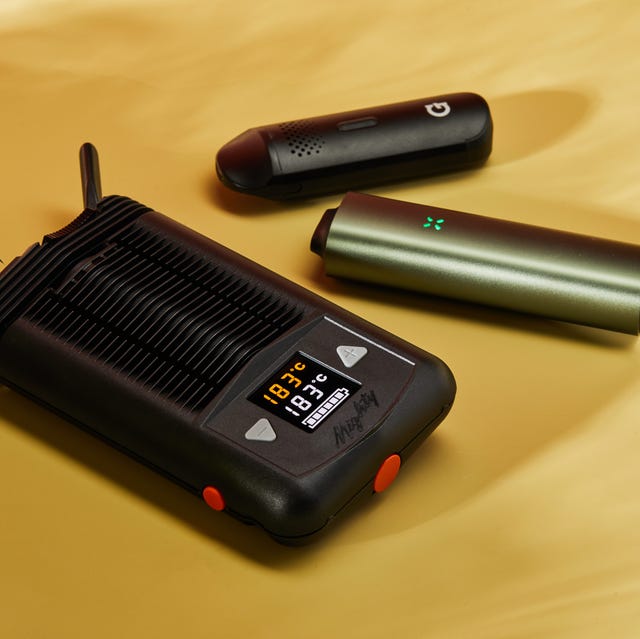 Looking for more vetted cannabis recommendations? Check out our guides to the best rolling papers, bongs, storage containers and grinders.
With the number of states legalizing cannabis increasing — and the number of medical marijuana patients going up — it's never been easier to access the healing properties of cannabis. However, ripping a bong or hitting from a pipe can draw unsavory reactions, whether from pesky landlords who would catch a whiff from an open window or roommates who can't take the lingering smell (no matter how much air freshener you use). Vaporizers offer a level of discreteness. Even better, vaporizing weed can get you higher while using less product. We tested an assortment of weed vaporizers — some are compatible with flower, some are compatible with concentrates, some are compatible with both — to identify the ones that are worth your green and the ones that will wreck your green. These 10 weed vaporizers represent the former.
Weed Vapes 101
Is vaporizing weed healthier than smoking it?
Probably. According to Mitch Earleywine, professor of psychology at the University at Albany, SUNY, and author of Understanding Marijuana, data from his lab shows that switching to vaporizing decreases respiratory irritation and increases lung volume in heavy users. And, compared to using oil vape pens that work with a 510 thread battery and a cartridge, there are proven health benefits to ingesting cannabis via herbal and concentrate vaporizers. However, Earleywine says to keep the temperature low to prevent lung irritation."Those who are careful not to overheat the plant are bound to see respiratory irritation improve in as little as a month," he says. "Those who crank up the temp likely do not benefit."
Is vaping safe?
Besides purchasing from reputable brands, Earleywine says to "start low and go slow" to prevent getting so high that you start thinking too much about climate change.
"Users suggest that they are accustomed to smoking and knowing the magnitude of the effects fairly quickly, often within a minute," he says. "In contrast, they describe vaporized cannabis as 'a creeper,' in the sense that the subjective effects get larger over the first 15 minutes or so. Many claim their first use of the vaporizer led them to 'over-medicate,' so to speak."
There are also significant ethical considerations to ingesting cannabis. BIPOC are still disproportionately affected by petty drug crimes while states legalize marijuana. Work toward restorative justice by making regular donations to mutual aid groups that help incarcerated people, or organizations like the Last Prisoner Project, which works to permanently reverse the injustice toward those who have suffered criminal convictions due to the War on Drugs. Additionally, you should support companies that donate to or have cannabis criminal justice reform initiatives in place.
How does vaporizing weed work?
Unlike bongs, pipes and joints, which use a direct flame as the means of releasing the cannabinoids in marijuana, convection and conduction vaporizers use heat.
Conduction vaporizers use direct heat contact to release the cannabinoids in marijuna. However, the direct heat means that there's a possibility you could burn your weed. These devices tend to be cheaper, portable, heat up faster and tend to be easier to use.
Convection vaporizers, on the other hand, use the transfer of heat — think of it like cooking something in the oven — to heat up the cannabis. Instead of directly heating the weed, heating elements in convection vaporizers heat the air, which is forced around and through the herb. Convection vaporizers tend to be more expensive and less portable than their conduction counterparts, but provide better vapor quality and flavor along with even heating.
Hybrid vaporizers use both convection and conduction.
The Best Weed Vapes of 2022
This content is created and maintained by a third party, and imported onto this page to help users provide their email addresses. You may be able to find more information about this and similar content at piano.io