Every product is carefully selected by our editors. If you buy from a link, we may earn a commission.
The 9 Best Coffee Grinders You Can Buy in 2022
If you want to make good coffee at home, you need a coffee grinder. These are the only nine you need to consider.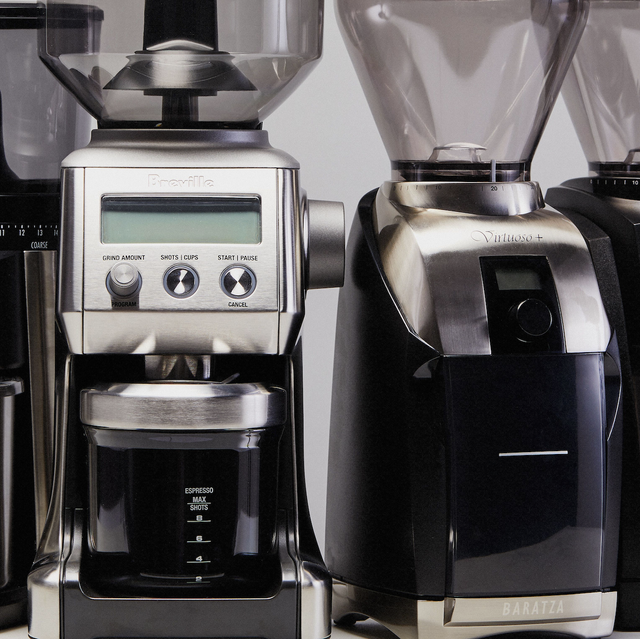 Looking for more coffee recommendations? Read our guides cold brew coffee makers, drip coffee makers, and pour-overs.
As it pertains to making better coffee in the morning, no decision yields a greater effect than switching from pre-ground to whole bean coffee. Roasted whole bean coffee carries with it the aromatics of the bean for a few weeks after roasting, and remains stable and "fresh" for much longer. Pre-ground coffee expels all the bean's natural aromatic and exposes the grounds to particles that distort flavor — in other words, pre-ground coffee is stale coffee.
To convert whole bean coffee to ground coffee, we need a coffee grinder. But not all grinders are created equal. We tested what most experts consider the world's best coffee grinders, comparing size, speed, price and performance, to identify which machines to buy, and these are the nine best coffee grinders of 2021.
What Makes a Good Coffee Grinder?
Burrs, Not Blades
A rule of thumb: burr grinders rule, blade grinders drool. Where a blade grinder works more like a blender, chopping away at beans at the blade level, burr grinders effectively chew and crush beans. The difference between the two is dramatic. When coffee is put in a blade grinder — which are typically inexpensive and designed for spice grinding — only the beans that are in contact with the blade are brought to size. This means the beans that sit below the blade, or wedge themselves into corners, are left at a completely different size, while the beans at blade-level are turned to dust. These differences ruin good whole bean coffee by creating ground coffee that's inconsistent and prone to weird extraction. In short, pots of coffee will never be replicable.
Sturdy Construction
With coffee grinders, the heavier the better. There are a few reasons for this. One, more weight means the machine's motor won't knock itself out of calibration or grind setting mid-grind. But it also means the grinder you're buying — a relatively small machine tasked with crushing coffee beans for 30 seconds every day — is less liable to break internally because there's less plastic and more metal.
Serviceability
No matter how nice the machine, every grinder requires service now and again. Even if there's not a mechanical issue, you'll need to remove the burr and guts of the machine to clean coffee from months ago off the internal gears. If you can't take it apart easily, don't buy it.
The Best Coffee Grinders of 2021
This content is created and maintained by a third party, and imported onto this page to help users provide their email addresses. You may be able to find more information about this and similar content at piano.io