Every product is carefully selected by our editors. If you buy from a link, we may earn a commission.
The 8 Best Weighted Blankets to Buy
If you're having trouble sleeping, a weighted blanket could help. Here's what you need to know before buying, and the best ones to get.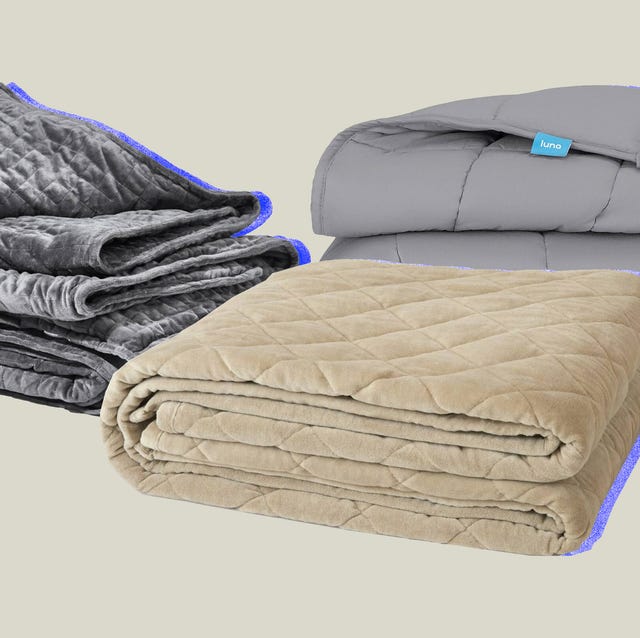 Sleep is an integral part of immunity, and yet, trouble sleeping is something we're likely all struggling with. If your mind starts racing as soon as your head hits the pillow, a weighted blanket could be your solution. The calming effect of the weight will slow things down, comfort you while keeping cozy. They feel like a hug, so whether you can't remember the last time you had human contact or you're getting sick of hugging your S.O., this blanket can help you.
Weighted Blankets 101
What are weighted blankets good for?
For those who have insomnia, weighted blankets "can provide a beneficial calming effect," according to a study published in the Journal of Sleep Medicine & Disorders. The study found that movement during sleep decreased, and participants subjectively liked sleeping with the blanket. If you enjoy the process of going to sleep, you're more likely to sleep, basically.In addition to helping you sleep, weighted blankets can also help decrease anxiety and stress. "Weighted blankets were first used for patients with an autism spectrum disorder, who found the weight of the blanket served as a grounding mechanism and helped them calm down," Dr. Nina Vasan, MD, chief medical officer of Real and Clinical Assistant Professor of Psychiatry at Stanford, says.
Do weighted blankets work?
Yes, and the reason they work is found in the deep touch pressure effect. "Deep Touch Pressure, where firm touch is applied to the body either by the self or by a machine, has been shown to improve functioning and reduce symptoms of anxiety," according to a study published in the Journal of Psychiatric Practice. It relaxes the nervous system and makes you feel calm, according to Dr. Vasan. If you have anxiety or stress, studies show that a weighted blanket can help.Whether you have trouble falling asleep or feel stressed during the day, a weighted blanket can provide the relief you need to feel better.
What's the best weight for a weighted blanket?
When shopping for a blanket, you'll likely have to figure out what size. While some brands separate by your bed size (twin, full, queen, king), many provide just weights. Consensus says the blanket should be about 10 percent of your body weight, so for a 150-pound individual, 15-pounds is best. However, if you and your partner share a bed, it's easier to get one that's for a Queen or King bed, which more and more brands are creating to make it a no-brain decision as to what to buy.Weighted blankets are intended to be heavy, and with that comes heat. It's like being wrapped in a flannel sleeping bag — you might go to bed cold, but you'll wake up sweating in the middle of the night. To prevent that, many brands offer materials that cool while compressing, but if you're a hot sleeper, it's worth trying a lighter weight.
The Best Weighted Blankets of 2021
This content is created and maintained by a third party, and imported onto this page to help users provide their email addresses. You may be able to find more information about this and similar content at piano.io