Every product is carefully selected by our editors. If you buy from a link, we may earn a commission.
The 10 Best Electric Toothbrushes for a Better Smile
Don't let mask wearing be an excuse to forgo proper oral hygiene.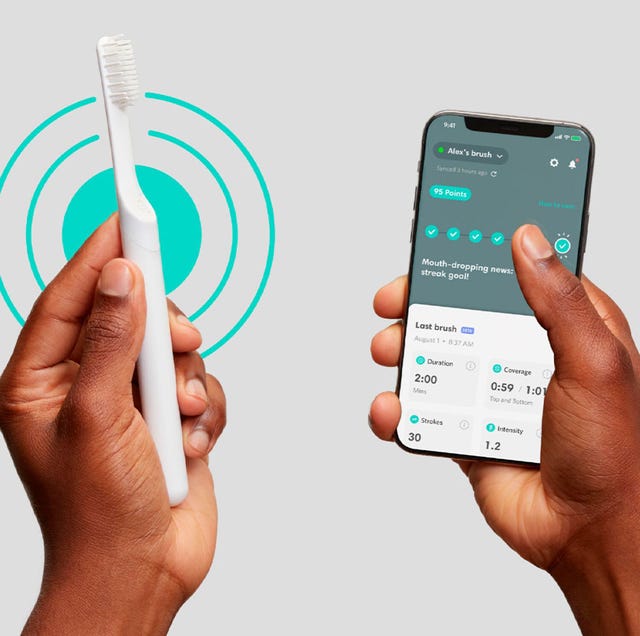 For over a year, we've see everyone from the nose and up. Hopefully that hasn't prompted anyone to forgo dental hygiene. Electric toothbrushes are undeniably better than their manual counterparts (one would hope the marketing schemes aren't just smoke and mirrors). While just owning an electric toothbrush won't give you a million dollar smile, it will significantly improve your oral hygiene game. Many brushes these days come with extraneous apps and features that make you feel like you need to be a dentist or orthodontist to know what's going on. We took a bunch of electric toothbrushes to the test to find ones that are worth your time and money. These 10 great electric toothbrushes will give you a smile that shines through in even the most dull Zoom meeting.
Are electric toothbrushes better than manual toothbrushes?
Yes, objectively electric toothbrushes help you to replicate the kind of cleaning you'd receive at the dentist. According to a study by the Oral Health Foundation, those who brush with a powered toothbrush have healthier gums and less tooth decay than those who brush with a manual toothbrush. Electric toothbrushes are especially good for those with limited mobility, since an electric toothbrush's bristle movement eliminates the need to vigorously scrub your teeth. They also keep track of time so you're brushing for a full two minutes, and some (the "smart" electric toothbrushes) will keep track of your oral hygiene so when you roll up to your dentist's office you have a record of how well you're doing.
How do I brush with an electric toothbrush?
Brushing with an electric toothbrush may feel jarring if you're just coming off using a manual one, mainly because you don't have to forcefully brush your teeth. Instead, let the toothbrush do the work, slowly going over your teeth. You're trying to clean your teeth, not shave them down to nubs. The American Dental Association recommends brushing your teeth for two minutes, twice a day. When brushing with an electric toothbrush, divide your mouth into quadrants — or four sections — so you can ensure each part of your mouth gets an equal amount of care. This would mean you brush the top right, top left, bottom left and bottom right of your mouth for 30 seconds in each section.

Is an electric toothbrush worth it?

The price range for an electric toothbrush varies drastically (our cheapest is $20, and our splurge pick is $200). The more you pay, the more functions you'll get, but generally, yes, electric toothbrushes are worth the money. Invest in your oral hygiene now so your future isn't filled with constant trips to the orthodontist. Shopping for an electric toothbrush will also mean taking into account the price for replacement toothbrush heads. Similarly to replacing manual toothbrushes, brush heads should be replaced three to four months, according to the American Dental Association.
Best Overall Electric Toothbrush: Hum by Colgate
Most associate Colgate more with toothpaste than toothbrushes, but Hum, released in 2020, proves that the brand is an all-around exceptional oral hygiene brand. The $70 rechargeable toothbrush (also available in a $50 battery-powered model) is incredibly lightweight, so much so that it barely feels like I'm holding anything. With three cleaning modes — normal, sensitive and deep clean— Hum makes it approachable by offering speeds for people with varying teeth sensitivity. (Its battery-powered model only has two cleaning modes: normal and sensitive.) For someone who's been using an electric toothbrush for almost all my life, I found the sensitive setting to be a little too weak, but normal was satisfying. Deep clean was like a power wash and ended up being my daily setting.
Hum's main selling point is that it's compatible with an app, a feature that's usually available only to toothbrushes double or triple Hum's price. The app can track your brushing in real time, but for those who aren't glued to your phone, the toothbrush stores up to 10 days of brushing data to sync with the app at a later time. It's strangely satisfying to see how well you're brushing on the app, and it's made me try to achieve 100 percent coverage every time (it's harder than you think). Brushing also awards you Colgate Smile Points that you can use to cash out in the Colgate store for brush heads, new toothbrushes, etc.
Brush Heads: $8/two-pack
Best Upgrade Toothbrush: Philips Sonicare DiamondClean Smart 9300 Electric Toothbrush
As someone who's always hated brushing their teeth, I can't believe I'm going to say that I thoroughly enjoy my dental hygiene now thanks to this brush.
I go full blast on the intensity level, but there are three intensities to choose from if your teeth are more delicate. The smart toothbrush heads will cause the handle to sync to the corresponding setting, but you can manually override this by selecting your desired setting instead. Most of the time I use my toothbrush on Clean (boring, I know), but if I have extra time at night and just want to make sure my teeth are getting the care they deserve, I'll go into Deep Clean, which basically just adds time to the timer. Each mode has its own directions to follow to optimize the results, and they're laid out in the user manual, but remembering exactly how Sonicare wants you to brush your teeth dependent on the mode is tedious. I like how the DiamondClean gives alerts every 20 seconds so that my mouth is divided into six sections, and a pressure sensor helps me to recognize when I'm pushing too hard on my teeth. The app works like most toothbrush apps, and you won't be disappointed with the wealth of knowledge you'll get from constant usage. And it's cool that the accompanying tumbler is also the toothbrush's charger.
Brush Heads: $27/two-pack
Best Budget Electric Toothbrush: Gleem Electric Toothbrush
Got a spare $20 on hand? Buy this toothbrush. Gleem has zero extra features, no companion app and one intensity level. The battery-powered toothbrush truly offers the bare minimum, but for a toothbrush, that's more than enough. Gleem clocks a two-minute brush session with 30-second intervals, and honestly, that's all there is to it.

Brush Heads: $10/two-pack
Oral-B 1000 CrossAction Electric Toothbrush
The $50 Oral-B 1000 CrossAction may seem like an entry-level model, and that's because it is. The toothbrush only has one mode, but don't discount its ability to take on any of your oral hygiene concerns. The handle is compatible with a plethora of Oral-B brush heads. Concerned about gum health? Get the Pro Gumcare heads. Sensitive teeth? Get the Sensitive Gum Care heads. The rounded brush head is a staple among Oral-B toothbrushes, and some are fans of the way it feels like it's buffing out your teeth the same way they do at the dentist's office. Unlike most toothbrushes in this price range, the CrossAction has a pressure sensor so you don't press down too hard while you brush.
Brush Heads: $5+/one
The brand that makes our favorite upgrade electric toothbrush also makes a pretty good affordable option at $25. The colors are bright and cheerful, almost in a way to lure you into brushing your teeth. But really it's what's on the inside that counts. The Philips One's motor is nowhere near as strong as the DiamondClean, or other more expensive Sonicare models, but it still feels like I'm getting a thorough clean. For the uninitiated into the electric toothbrush world, this may get you to take your oral hygiene more seriously.
Brush Heads: $10/two-pack
The 8 Best Beard Trimmers You Can Buy in 2021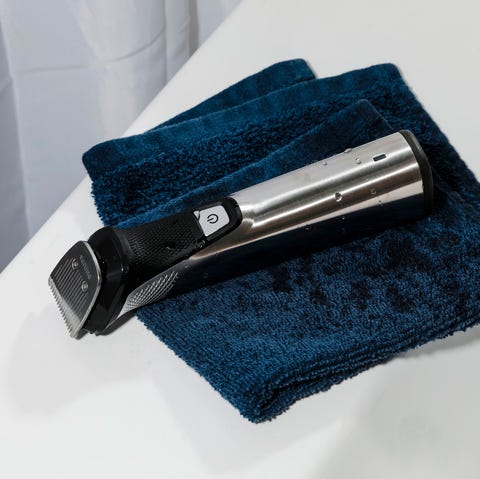 From Wahl, Philips Norelco, Braun and more.
Quip Smart Electric Toothbrush
Warby Parker is the, well, Warby Parker of eyewear. Along the same lines, Quip quite possibly made toothbrushes cool through an affordable price point, timeless design and track record of working. The Quip Smart Electric Toothbrush is most comparable to the Hum by Colgate, albeit slightly cheaper. (The plastic version is $45 and the metal one is $60.) That cheaper price point may come at the cost of a more robust app, however, which offers a fairly top-level view of your brushing. It does offer rewards for brushing, and those can be redeemed for gifts from Quip and third-party vendors. Quip's soft-bristle brush head is delicate on teeth, but the toothbrush's motor ensures a thorough brushing.
Brush Heads: $10/two-pack
Goby's toothbrush handle is a bit thicker than most on this list, but some may like that it fills out the hand better. It is made of plastic, but doesn't feel like it was cheaply made. Our tester is a fan of the circular brush head because it "seems to be better at concentrating on a specific spot and scraping the gums." There are no brush modes besides general cleaning, but there are two intensity levels: normal and sensitive. Goby calls its bristles soft, but our tester found them to be on the firmer side, which was actually better than expected. Brush's subscription service will send you a new brush head either every month, two months or three months, and opting in for a subscription saves you $15 on the initial purchase.
Brush Heads: $6/one
Brüush Black Electric Toothbrush
Brüush wins points for having six cleaning functions without requiring a crash course in dental school to figure out how to maximize each of their potential. Our tester found the sonic toothbrush to be just a tad too powerful on his teeth, but chalked it up to his history of using manual toothbrushes. The $55 price tag is fairly impressive since the initial purchase includes three brush heads, when most come with one or two.
Brush Heads: $18/three-pack
Out of the box, Burst feels solid without being heavy or bulky. The ergonomic handle features a textured, geometric design that makes it easy to grip and hold for a solid two minutes. There are three brush settings: whitening, sensitive and massage, all of which provide ample teeth cleaning. Our tester found the size and shape of the brush head to be part of the toothbrush's pros because it "forces you to brush a little differently and more intentionally than you're used to." There's no app, which makes the price feel a little high, but Burst does tout charcoal-infused bristles. While the brand claims the charcoal will help remove surface stains on teeth, our tester had not noticed a significant difference in teeth whiteness. After one month of testing, our reviewer notes that he has yet to charge his toothbrush — a notable plus since most other toothbrushes can require charges two or three times a month.
Brush Heads: $8/one or $7/one every 12 weeks with a subscription
Quip Kids Electric Toothbrush Set
It's basically the Quip for adults but made for tinier hands and more delicate teeth. Because Quip Kids is lightweight and slim, kids should have a better time holding it and using it. Electric toothbrushes, or toothbrushes in general, for kids have tacky designs or corny sound effects to make brushing seem like fun. Unless your child really needs a toothbrush adorned with their favorite cartoon, Quip Kids is sure to be great toothbrush for them — if only you can get them to take their oral hygiene as seriously as you do.
Brush Heads: $5/one
The 10 Best New Wellness Products of 2020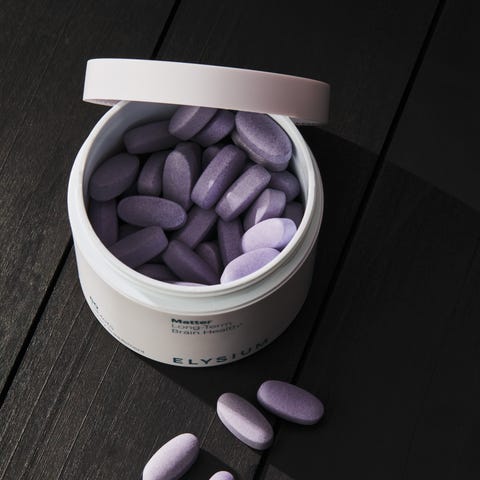 In 2020, wellness made itself a real urgent priority in more ways than one.
This content is created and maintained by a third party, and imported onto this page to help users provide their email addresses. You may be able to find more information about this and similar content at piano.io