Every product is carefully selected by our editors. If you buy from a link, we may earn a commission.
You Know Carhartt. What About Carhartt WIP?
One is a Detroit clothing company founded in 1889. The other's much newer.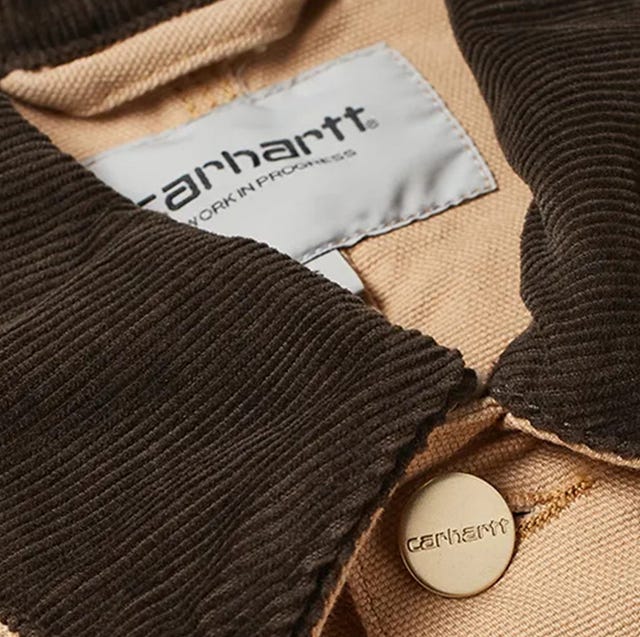 You know Carhartt. The classic Detroit clothier was founded in 1889, when Hamilton Carhartt established Hamilton Carhartt & Company with plans to manufacture bib overalls for railroad workers. "Honest value for an honest dollar" was the company's original slogan.
History
By 1910, the operation expanded into several states (South Carolina, Georgia, Texas, and California) and three different countries (France, Canada, and the UK). Through WWI and WWII Carhartt produced uniforms and other essentials for US servicemen, but the stock market collapse in-between (in 1929) nearly put the company out of business. Simultaneously, some of its most popular products were hitting their stride: the Chore Coat, first advertised in 1917, was increasingly commonplace.
Fast forward to 1974, orders placed for workers building the Alaskan Pipeline were a lifeline. A year later, Carhartt was doing private label work for big box stores like Sears and J.C. Penney. The Active Jac, Carhartt's top-selling product today, although the beanie is gaining fast, launched soon thereafter. Through the '80s, Carhartt became an attractive option for all types of blue collar workers. Then, as workwear slowly seeped into fashion circles, celebrities, musicians and other entertainers, even models, started wearing Carhartt, too.
By 1989, the brand had crossed the pond. Arriving in Europe via Swiss designer Edwin Faeh, Carhartt became an instant success at his store, All American Concept. In 1994, he acquired the exclusive rights to sell Carhartt in Europe under a new label, Work In Progress (WIP). Two years later, he purchased the rights to producing Carhartt products outside of the US, thus cementing his status as the official European offshoot of the U.S.-born company: Carhartt Work In Progress (WIP). But what is the difference between Carhartt and Carhartt WIP? Is one just made in Europe?
Today
Think of the two parties' relationship this way: Carhartt offered Carhartt WIP license to update the company's pillar products — their worksite-ready chore coats, double-knee pants, Detroit Jackets, overalls, beanies, and beyond. With Carhartt's blessing, Faeh makes adjustments to these signature items as he sees fit: tailoring a trouser to be more modern, making jackets in new colors, or collaborating with other designers. Faeh has a flair for streetwear, making Carhartt WIP the kind of Carhartt most fashion-inclined people actually want — even if they still just call it Carhartt.
That being said, yes, there are lots of Carhartt originals you can still cop over the revamped WIP editions — at over half the price. There's the A18 Watch Beanie, for example. There's the brand's double-knee pants, too. But, be careful. Like Doc Martens, some of Carhartt's products require serious commitment to break in, and ultimately, getting them to fit the way you envisioned is a decade-long ordeal. (Hence why vintage Carhartt sells for well above retail right now.) If you want workwear that's flattering from the moment you put it on, go with Carhartt WIP. Sure, doing so might reinforce the trope of fashionable types wearing blue collar clothing purely for the aesthetic, but Carhartt WIP's products are functional, too.
The brand, which has since come full circle by expanding to the US, makes Detroit Jackets from durable, 12 oz Dearborn canvas. Pairs of overalls and double-knee work pants constructed from thick-cut cotton, too. However, they also make graphic tees, patterned Chuck Taylors, and "C" logo ice cube trays. Think of Carhartt WIP like Carhartt's cool kid — the one tasked with keeping their parent up on the latest trends.
---
This content is created and maintained by a third party, and imported onto this page to help users provide their email addresses. You may be able to find more information about this and similar content at piano.io